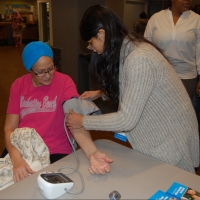 Community Health Seminar at the Boulevard: Hypertension
By John Peck | February 11, 2017
Remember the song, "Rikki Don't Lose That Number" from the pop group 'Steely Dan' in 1974? It offers a piece of advice for someone in a somewhat desperate situation to keep a phone number to call someone to 'feel better'.

We'd also say that people shouldn't 'lose their numbers' about an important medical condition - hypertension (high blood pressure). So, we gave a health clinic talk at the Boulevard Family Residence on Queens Blvd near our clinic called, "What's Your Number" at the end of January. People need to 'know their numbers', because high blood pressure has been called, 'the silent killer' - you can't necessarily 'feel' high blood pressure. And if you have it and don't know it, and therefore don't treat it, high blood pressure can be damaging to your health for the long-term, and even fatal if it produces a stroke or other debilitating condition.

Yasir Chowdhury and Soon Hong, two 6th-year students from the St. John's University School of Pharmacy gave an in-depth presentation on hypertension. They explained that blood pressure is, what happens when it's high over time, and how factors like a high Body Mass Index (BMI), an indicator of obesity, force the heart to work harder. Hypertension can almost always be prevented and provided the following 6 steps as a good plan of action:

1.Maintain a healthy weight
2.Be physically active
3.Follow a healthy eating plan
4.Eat foods with less salt
5.Drink alcohol in moderation
6.Take prescribed medication as directed

One woman explained how she was diagnosed with high blood pressure but stopped taking her medications over 6 months ago because she could not afford it. Christine Chim (PharmD), our Pharmacy Director, told the audience the importance of maintaining medications, and gave information on how to obtain medicines at lower prices – a vital piece of information for those in our area on fixed or lower incomes

Over half the audience lined up to get their blood pressures tested. Each person had a one-on-one consultation regarding their numbers with John Peck, a former EMT, Christine, Dr. Asha Alex or Yasir and Soon.

This was a great experience for Yasir and Soon, their first opportunity to give a public presentation on a necessary health issue. Soon noticed the local need and limited access to health care they had, and both say they want to do more of these kinds of health care presentations. Alice Solomon, a Boulevard Residence at the Boulevard, said health talks like this help educate their residents and help them to stay on top of their health, and expressed her appreciation for the presentation.

We'll continue presentations there to help make sure residents don't 'lose their numbers'.

Back