Showers & Health Screenings for the Homeless
During the construction of the health center we decided to install an old shower shell in our patients handicap accessible bathroom. Upon signing in at the front desk, each homeless person is given a disposable plastic bag with a bath towel and assortment of travel size toiletries. After using the shower they leave the used towel in the plastic bag so that they can be laundered.
For the first few years we had three to five homeless individuals who would semi-regularly come to the health center when we were open to use the shower. After partnering with another ministry that feeds day laborers the number of showers increased.
In January of 2011, the number of homeless men coming for showers ballooned to 10-12 people showering each time we were open. In 2019 we provided 2,638 showers to 305 diiferent homeless individuals.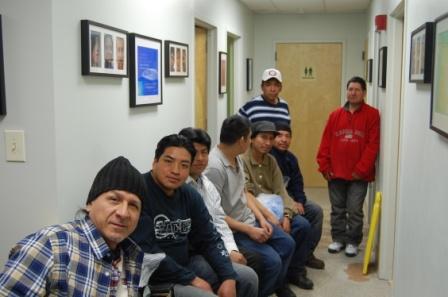 In partnership with the New Life Food and Clothing Pantry, the men are now receiving a warm meal after they take their showers. We also provide clean socks weekly and seasonally provide winter coats, gloves and hats.
We are always looking for individuals who may want to contribute financially to this program or volunteer to help clean the shower and serve the men.