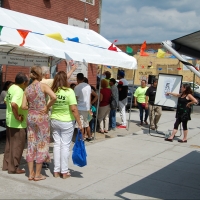 July 15 Health Fair in Woodside, NY with Nueva Vida International Church
By Dave Jennings | July 16, 2017
On Saturday, July 15 we held a free outdoor community health fair in partnership with Nueva Vida International Church in Woodside, Queens.
Nueva Vida International Church is the original Spanish congregation of New Life Fellowship founded by Pete Scazzero. Pastors Julio and Leonora Rodriguez lead the church and the outreach was planned and coordinated by Orlando Galeano.
Over fifty people were served. Sixty percent of those served were over the age of fifty. Participants came from eighteen communities within Queens County. These individuals represented eighteen different countries of origin with forty percent coming from Columbia and ten percent from both Ecuador and Mexico.
Sixteen volunteers came out to support the free community health fair. It was great to see Butchie Cervantes and Juliet Sihaloho long-time members of New Life and Elmhurst Hospital nurses from the earliest days of the church.
If you would like to volunteer for one of our upcoming health fairs we would love to have you join us. Please contact us at NLCHC@NLCHC.org to confirm your participation. Below is a schedule of locations and we encourage any of you living in these neighborhoods to come out for a free health screening.
• Health Fair - Saturday, July 29 from 2-5 pm at Electric Park Playground on 164th Street between 65th Avenue and 67th Avenue Fresh Meadows, NY 11365 in partnership with Queens Herald Church
• Health Fair - Wednesday, August 16 from 5-8 pm Moore Homestead Playground on Broadway between 45th Avenue and 82nd Street Elmhurst, NY 11373 in partnership with Street LIFE Ministries
• Health Fair - Saturday, September 16 from 10 am to 3 pm at 135-20 35th Avenue Flushing, NY 11354 in partnership with Queens Christian Alliance Church
• Health Fair - Saturday, September 23 from 10 am to 1 pm at 82-10 Queens Boulevard Elmhurst, NY 11373 in partnership with St. Johns School of Pharmacy students
Back