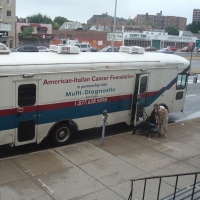 Mammogram Screenings Saturday, November 18
By Asha Alex | October 7, 2017
October is Breast Cancer Awareness Month!

Early detection of breast cancer saves lives.

Free Mammograms & Breast Cancer Screening
Date: Saturday, November 18th, 2017
Time: 9:00-4:30pm
Location: 82-10 Queens Boulevard.
(A mobile clinic van will be in front of New Life Fellowship Church.)

Eligibility:
 Woman aged 40 and older with health insurance
 Woman aged 50 and older without health insurance
 Currently living in New York City
 No Mammogram in the past 12 months

The services are free! No co-pays are required and deductibles are waived.
Uninsured patients are welcome.

IMPORTANT: Please note that this is by appointment only.
Please call 718-565-9844 OR email Asha Alex at alexa@nlchc.org with your name and phone number to schedule an appointment.
Back