Summer 2018 Health Fairs - Celebrating 100 Community Health Fairs Serving 5,000
May 18, 2018
It was 18 years ago this June that a small group began gathering to plan a community health fair. The first fair was held in January 2001 in the Shell Room outside the front door of what is now the health center. This summer we will celebrate our 100th health fair and surpass 5,000 individuals served through our FREE, mostly outdoor, community health fairs.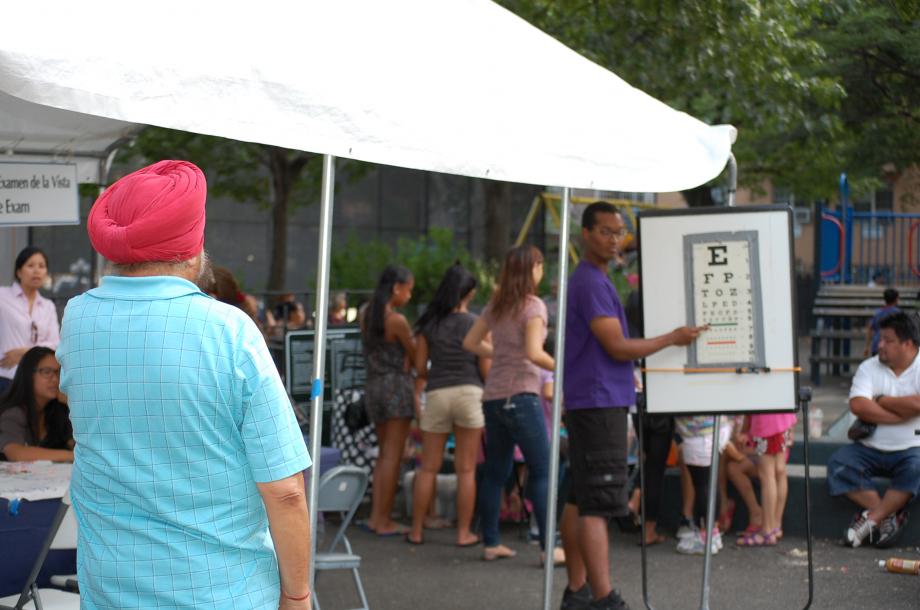 I would like to encourage you to come out for one of the health fairs this summer (below). It would be great to connect with some of you who were involved in our early days. The health center is very busy on Saturdays, so we can especially use your help on Saturday, July 21 when the health fair will be happening at the same time as our health center hours and we will need to split our volunteer staff on those days.
• #96 Date: Saturday, May 26
Partner: Nueva Vida International Church (on sidewalk in front of church)
Address: 5321 37th Avenue Woodside, NY 11377
Time: 1:30 - 4:30 pm
Set-up: 1:00 pm
• #97 Date: Saturday, June 2
Partner: Queens Herald Alliance Church at Electric Playground
Address: 164th Street between 65th Avenue and 67th Avenue Fresh Meadows, NY 11365
Time: 2:00 - 6:00 pm
Set-up: 1:00 pm
• #98 Date: Saturday, July 21
Partner: La Jornada Ministry at St George's Church (in their parking lot)
Address: 135-32 38th Avenue Flushing, NY 11354
Time: 10:00 am – 1:00 pm
Set-up: 9:00 am
• #99 Date: Wednesday, August 15
Partner: Street Life Ministries at Moore Park
Address: Broadway and 45th Avenue and 82nd Street Elmhurst, NY 11373
Time: 5:00 pm - 8:00 pm
Set-up: 4:30 pm
• #100 Date: Saturday, September 29
Partner: New Life Fellowship (in side parking lot)
Address: 82-10 Queens Boulevard Elmhurst, NY 11373
Time: 10:00 am to 1:00 pm
Set-up: 9:00 am
We covet your prayers for the health center and the community we serve. This year we expanded to include special hours for women who are victims of sex-trafficking and domestic violence, launched an early childhood dental preventative care program, and our homeless program on Tuesdays and Saturdays is now serving over 30 men and women every time we are open.
Your faithful financial support over all of these years is greatly appreciated. Gifts can be made out to New Life Community Health Center and mailed to:
New Life Community Health Center
82-10 Queens Boulevard
Elmhurst, NY 11373
Attention: Dave Jennings
Online donations can be made by using the following link: http://www.nlchc.org/about-us/online-giving.html.
Please let us know if you are able to volunteer at one of the summer health fairs by emailing volunteer@nlchc.org
Back