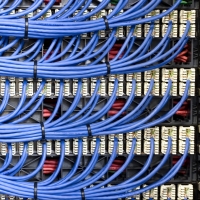 Thank You Ralph Yoon and Claro Consulting
By John Peck | January 31, 2017
At the West Point Military Academy, three words from a 1962 speech by General Douglas MacArthur say with simplicity the West Point motto: "Duty Honor Country".

Sometimes you find someone who goes above and beyond an expectation contained in a creed. That's because they're not doing it for themselves, or even so much you. They do what they do to serve God's higher purposes and they make a generous gift.

Ralph Yoon recently took on a task for the New Life Community Health Center that was more than duty or personal honor for himself, and beyond a temporal country. He and workers from his company, Claro Consulting (thinkclaro.com) helped provide the clinic with critical infrastructure CAT6 wiring that help us ready the clinic for the implementation of our new Electronic Health Record (EHR) system.

Ralph and his company were connected to the health center through a colleague who has volunteered with the health center since 2005. After his company came and gave us our much-needed wiring update we asked him about how to pay the bill. Ralph turned us down. We said we at least wanted to pay his workers on his behalf. Ralph chose to take care of that himself, and said, "I'm glad that I can give to an organization that is living out the Gospel. Use any savings to bring more people to know Christ".

Ralph, we want to give you our own 'salute' and take a humble bow in gratitude for what you've done for us. Your provision for our clinic means that we can pass that same generous spirit on to others, especially those who need what we do, and don't have the means to pay for it.

You can find out more about Claro Consulting at thinkclaro.com There company motto is: Clarity * Trust * Productivity. Thank you for living out your own humble creed for us!
Back