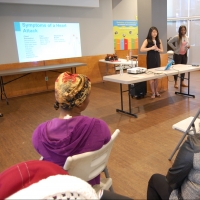 The "Healthy Heart" Health Talk at the Boulevard Family Shelter
By John Peck | April 15, 2017
Getting your heart healthy...and a diet that helps keep it there. That's what the New Life Community Health Center brought to the Boulevard Residence Center in Elmhurst, Queens on April 11th.

NLCHC and a special team from the St. John's University School of Pharmacy made a presentation on how to be 'heart-smart'. Topics were covered such as the different kinds of heart diseases, how to tell the signs and symptoms of a heart attack, obesity and how to calculate your BMI (body mass index, a weight-to-height ratio as an obesity indicator), what makes up a diet in healthy choices, and how smoking affects your heart. Some information on stroke and how to handle stroke situations was also explained.

This was a presentation that started very slowly with few in attendance, but suddenly 'picked up steam' as more joined in, and ended up with a boatload of questions at the end. Residents seemed to ask a lot about the issues of smoking and its relation to heart problems. This can be a problem especially among low-income populations or cultures where smoking is prevalent. We all know the problems that obesity, poor diet choices, and lack of exercise causes for the heart. Little attention is paid to the effects of smoking on the heart.

Cigarette smoking increases the risk of coronary heart disease by itself. When it acts with other factors, it greatly increases risk. Smoking increases blood pressure, decreases exercise tolerance and increases the tendency for blood to clot. Because of the chemicals in tobacco smoke, the risk is increased that you can get atherosclerosis (plaque builds up in the arteries to close down blood flow) or arteriosclerosis (hardening of the artery walls themselves).

The wider culture of America is generally moving against smoking...but certain populations we may see in the clinic may or may not be 'getting the memo' on smoking. And our populations often don't have the income to shop as well as they should for better-choice foods for healthy eating, either. So keep our health issues in mind and prayer as we become more of an information center as well as a treatment center to our Elmhurst community.
Back